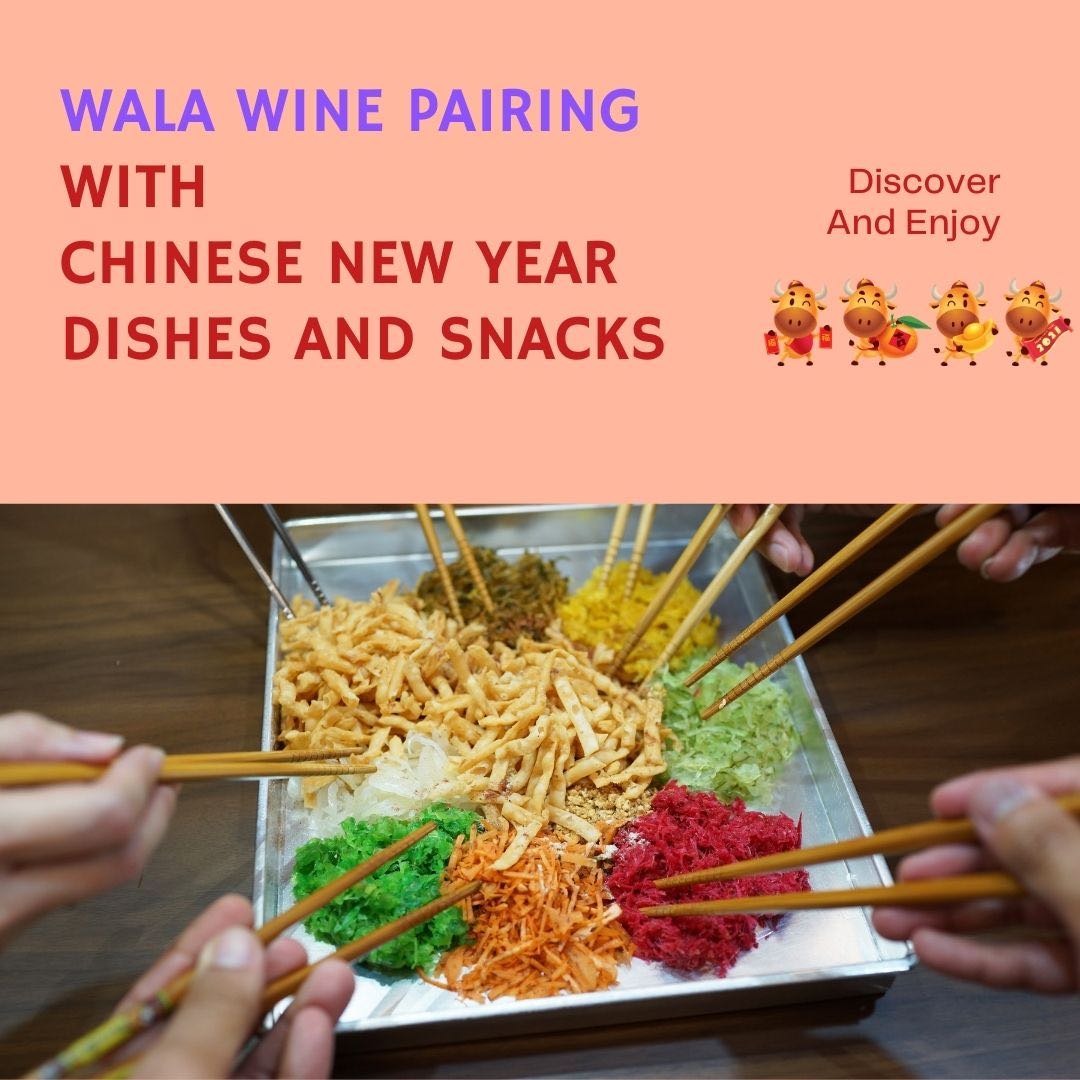 Wine Pairings: Pair WALA Wine With Your Chinese New Year Feast And Snacks
Feb 10, 2021
ENJOY OUR CHINESE NEW YEAR WINE PAIRING VIDEO
Click here to view our 2021 CHINESE NEW YEAR WINE Offers at https://walaclub.sg/shop?offer=51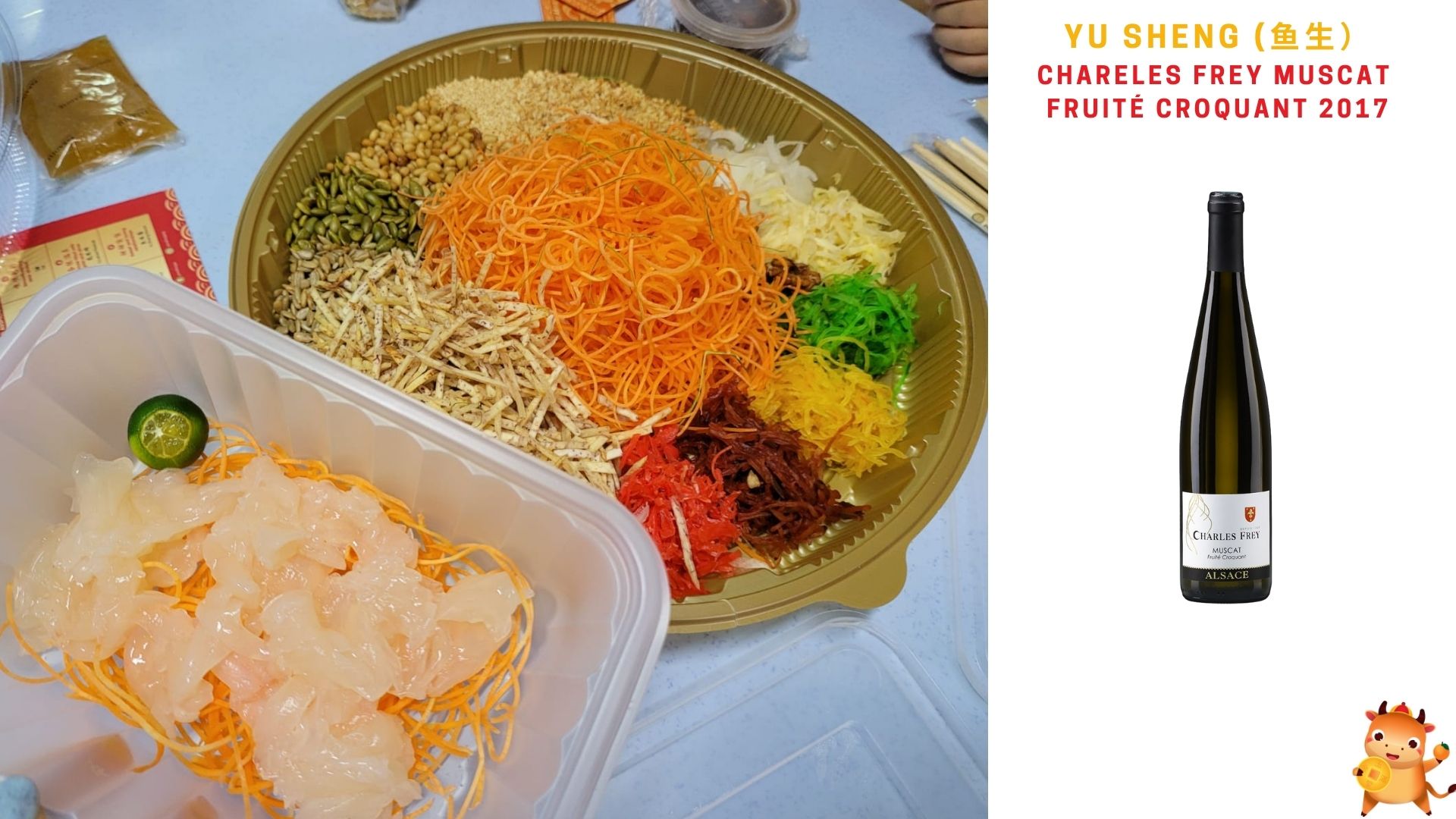 Yu Sheng with Charles Frey Muscat Fruité Croquant 2017
The tossing of Yu Sheng used to be a fun and messy affair that takes centre stage at Chinese New Year lunches and dinners but it is a quiet affair this year with Covid safety measures without the loud cries of prosperous well-wishes and the wild flinging of fresh raw salmon or abalone slices with the assorted shredded vegetables, golden crackers and toppings coated in sweet plum sauce.
This Chinese New Year dish is best paired with an aromatic white Muscat Blanc which has acidity and some sweetness that goes well with sweet-and-sour flavours like those found in yusheng.  The Charles Frey Muscat Fruité Croquant 2018 is a delicious semi-dry wine, created from the fresh fruit of Muscat, moving towards floral notes.  The palate brings an outstanding freshness and citrus zestiness alongside a finish that is appetizing and wonderfully tasty.
Click to purchase Charles Frey Muscat Fruité Croquant 2017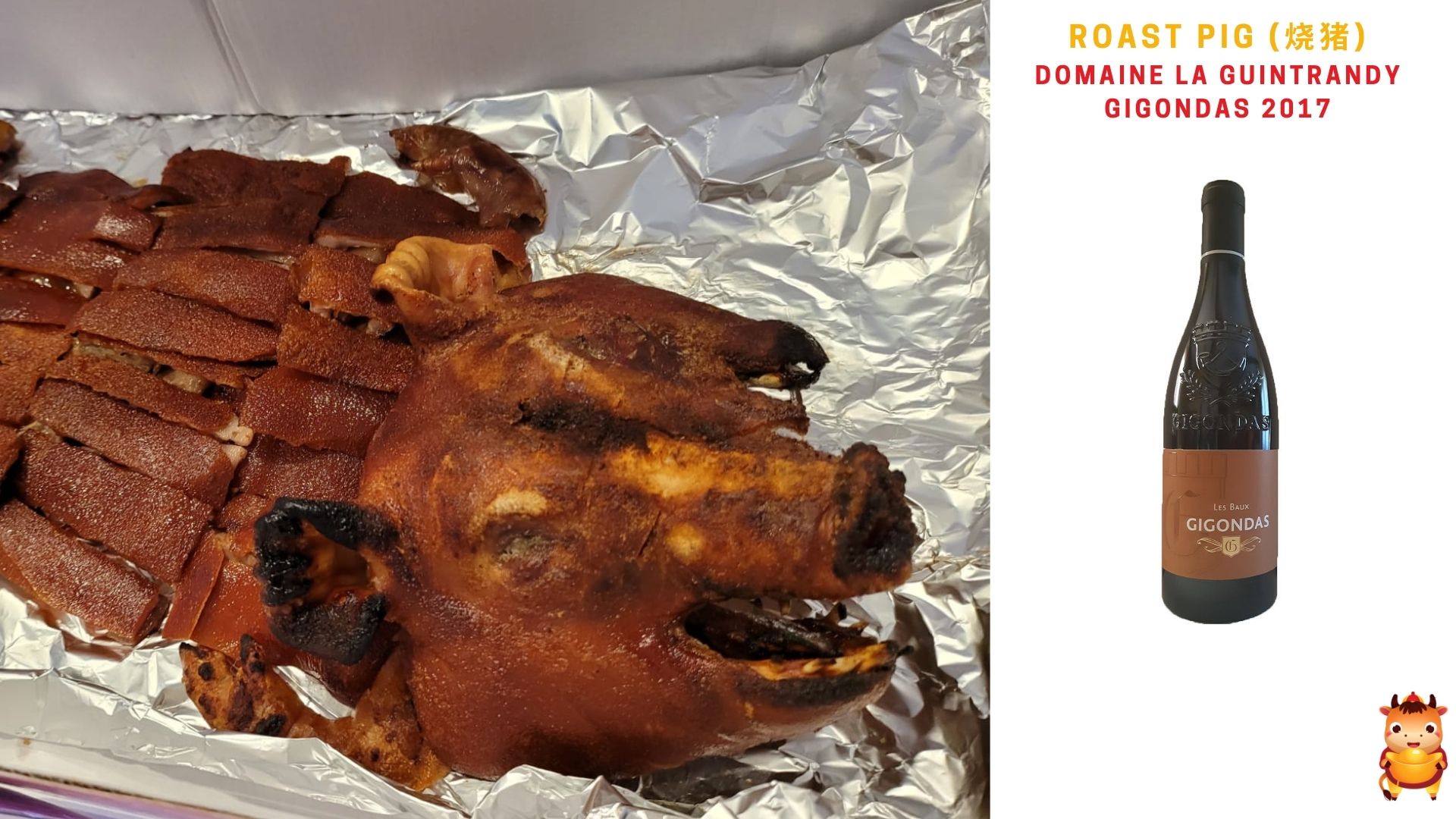 Roasted Suckling Pig with Domaine la Guintrandy Gigondas 2017
Cantonese cuisine have strong flavours often served at the beginning of a meal such as suckling pig. Here the choice would be for a full-bodied reds from southern Rhone Valley France such as Cote du Rhone and Crozes-Hermitage or an aged northern Rhone red which will turn Syrah into silky tannins with time in bottle. 
For Cantonsese roasted suckling pig, Domaine la Guintrandy Gigondas which has a ruby ​​to dark garnet colour is the bol and rich red Southern Rhone wine of choice.

The nose reveals a bouquet of red fruits with tight grain, finesse of tannins. It will evolve towards wild nuances of undergrowth and truffles. On the palate, the Gigondas is full-bodied with a fleshy attack to cut through the fat of the meat and open up the juicy flavours of the meat. 
Click here to purchase Domaine la Guintrandy Gigondas 2017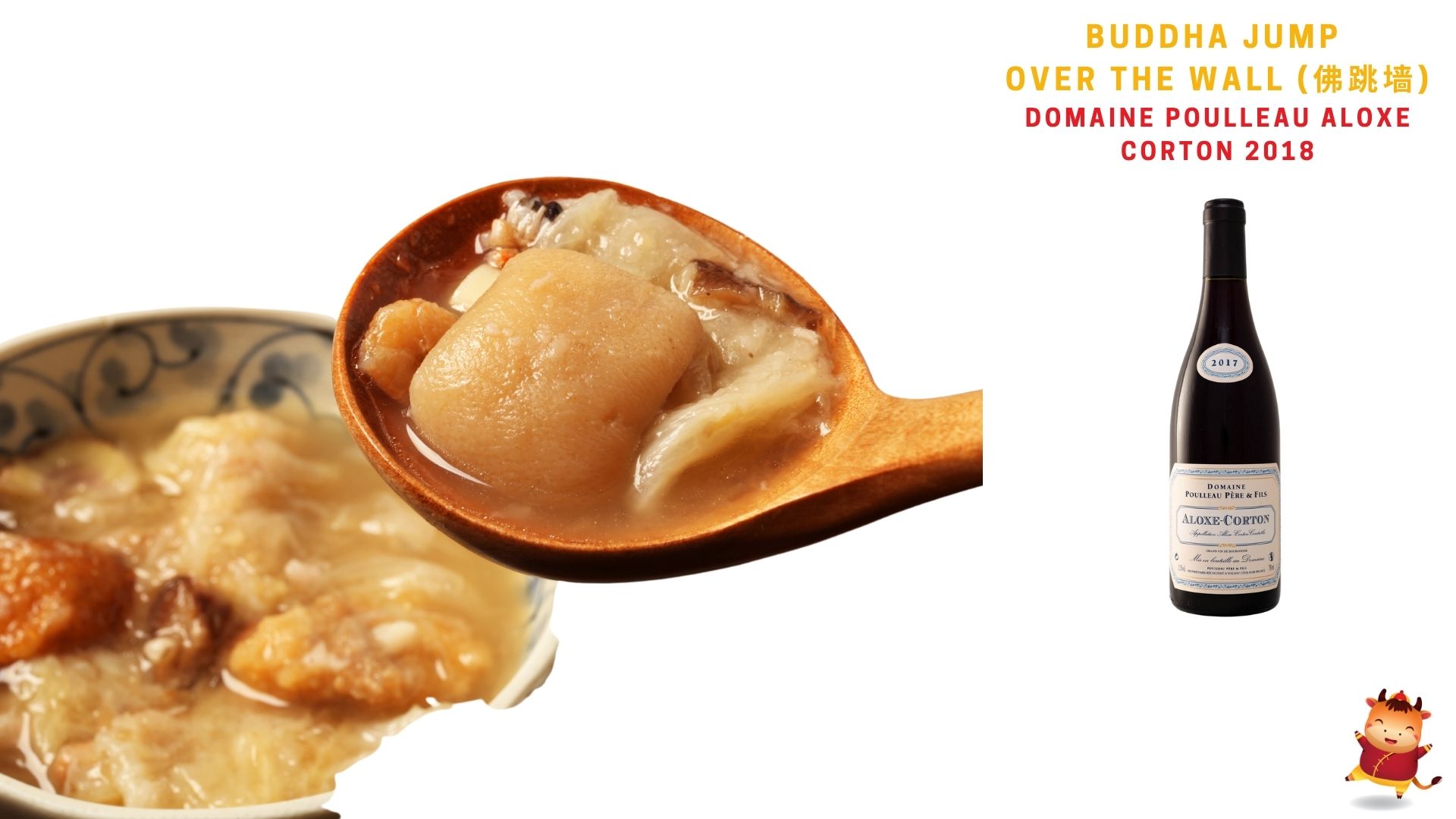 Buddha Jump Over The Wall with Domaine Poulleau Aloxe Corton 2018
Buddha Jumps Over The Wall Soup is a nourishing herbal soup with Chinese delicacies simmered long and slow until they fall apart when you taste them ! 
Depending on the strength of the soup or sauce a medium bodied red can work well.
While any of the Burgundy red from top producer Domain Poulleau would be great, a wonderful wine to enjoy now is Domaine Poulleau Aloxe Corton which is a premium red Burgundy that would enhance the complexity, depth and layers of flavours. The tannins are as soft as velvet, and the taste is rich and smooth. The style is very elegant with the rich ingredients where one is slowing down to savour and appreciate the dish.
Click to purchase Domaine Poulleau Aloxe Corton 2018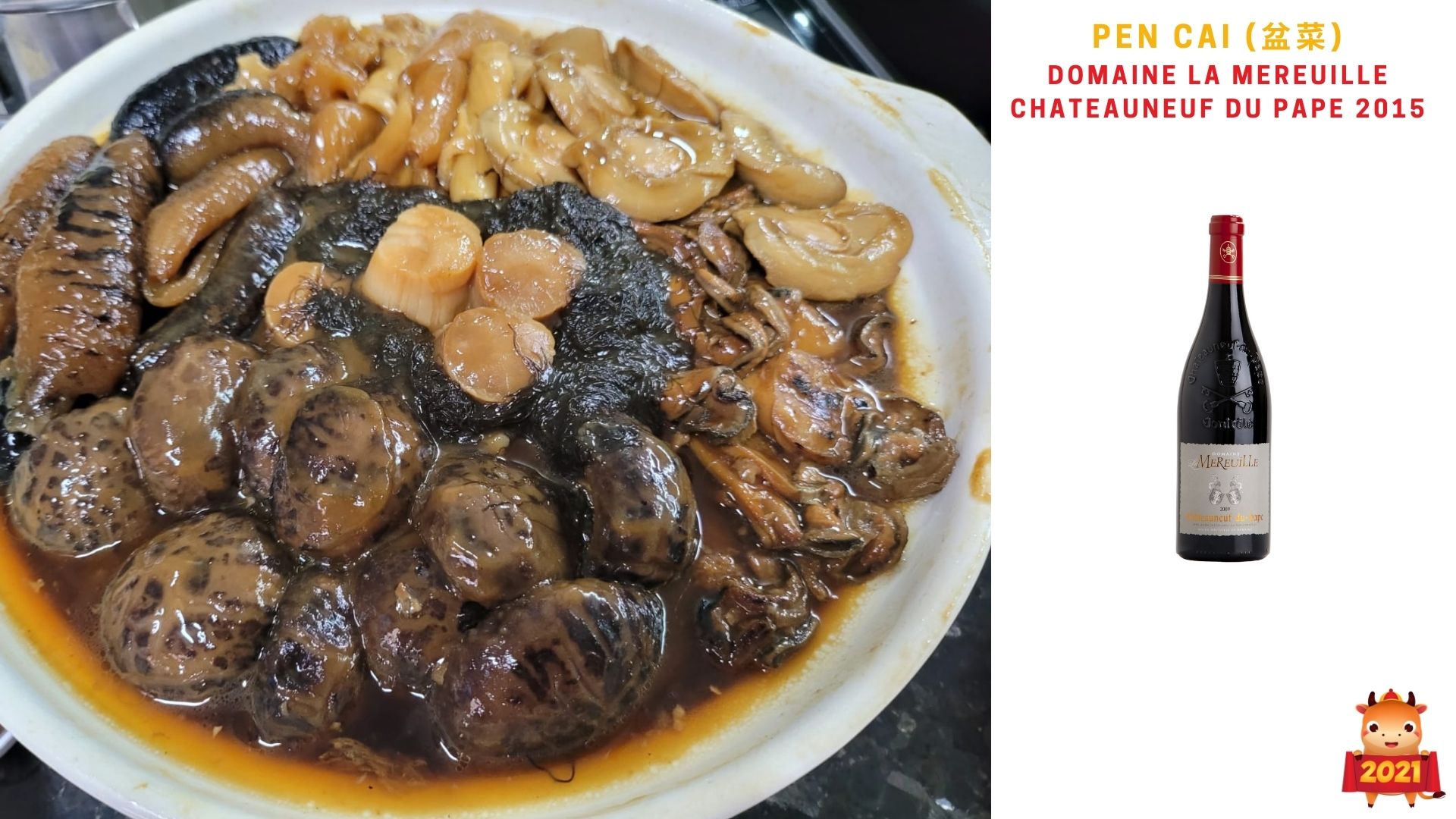 Pen Cai with Domaine la Mereuille Chateauneuf du Pape 2015
Pen Cai known as 'Pot Of Wealth', is a well-known traditional Chinese New Year dish.  Enjoying Pen Cai together during family meals signifies reunion, harmony and prosperity.

The dish containts delicious Chinese food delicacies such as abalone, premium mushrooms, dried moss, cabbage, top shells, scallops and meat like chicken, duck or roast pork, all lovingly braised together in their umami juices. 
A big red wine with robust flavour that can stand up to the powerful dish would be a good match. 
The Domaine la Mereuille Chateauneuf du Pape makes a good pairing with full of complex nose of leather notes mingle with black fruits.
The palette is a powerful, fiery, full-bodied and long and gets highlighted by the richness of the dish by bringing out the slight pepperiness and flavour of the dish while adding its own aroma to the experience. 
Click here to purchase Domaine la Mereuille Chateauneuf du Pape 2015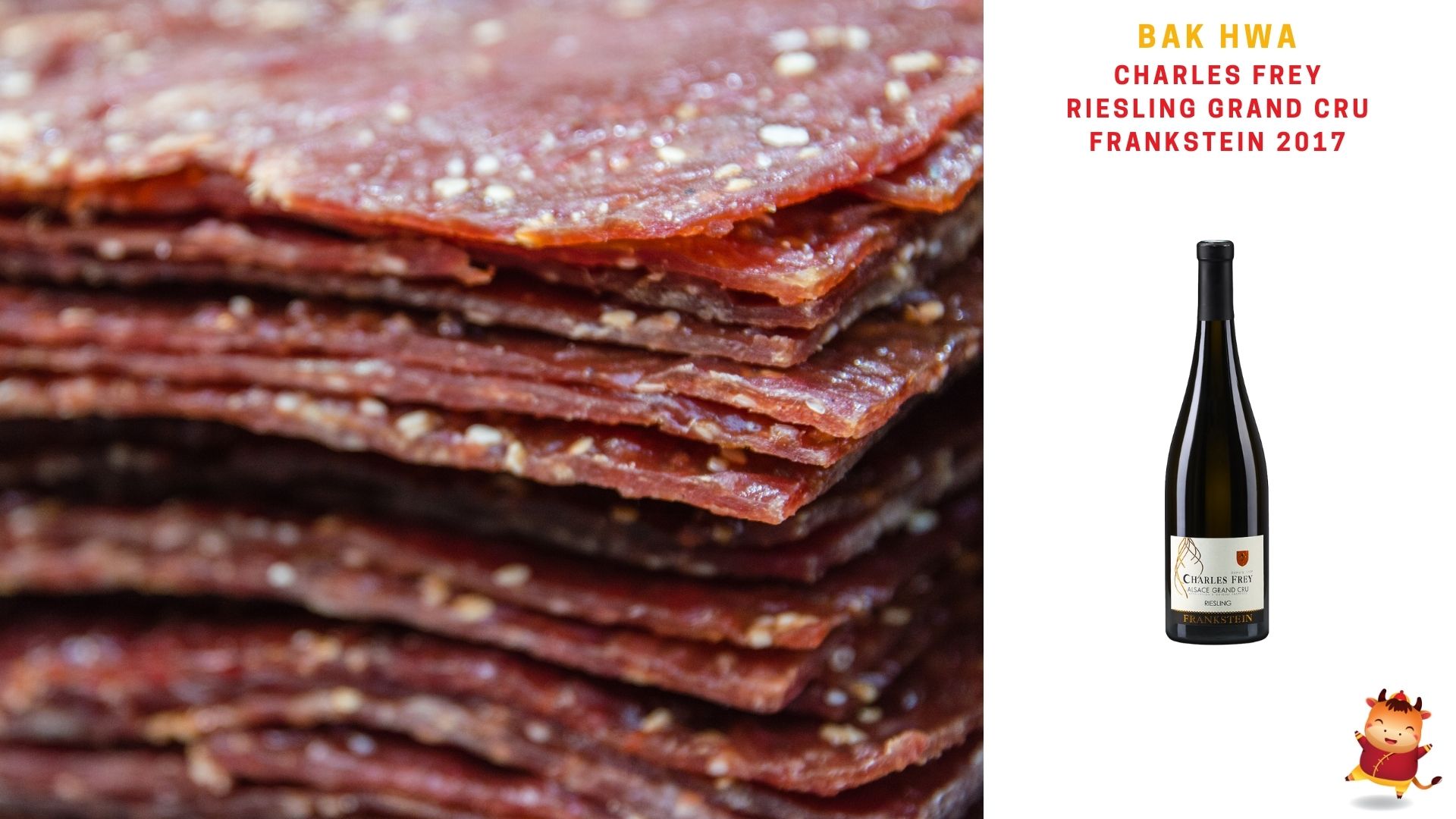 Bak Kwa with Charles Frey Riesling Grand Cru FRANKSTEIN 2017
Bak Kwa is a barbecued sweet meat that makes every Chinese New Year celebration more festive and the French Riseling is a perfect match to complement each bite.
The Charles Frey Grand Cru Riseling which is crisp, mineral, dry and acidic with a beautiful delicacy around citrus notes will make the juiciness and fatty richness of the bak kwa taste even more beautifully.
Click here to purchase Charles Frey Riesling Grand Cru FRANKSTEIN 2017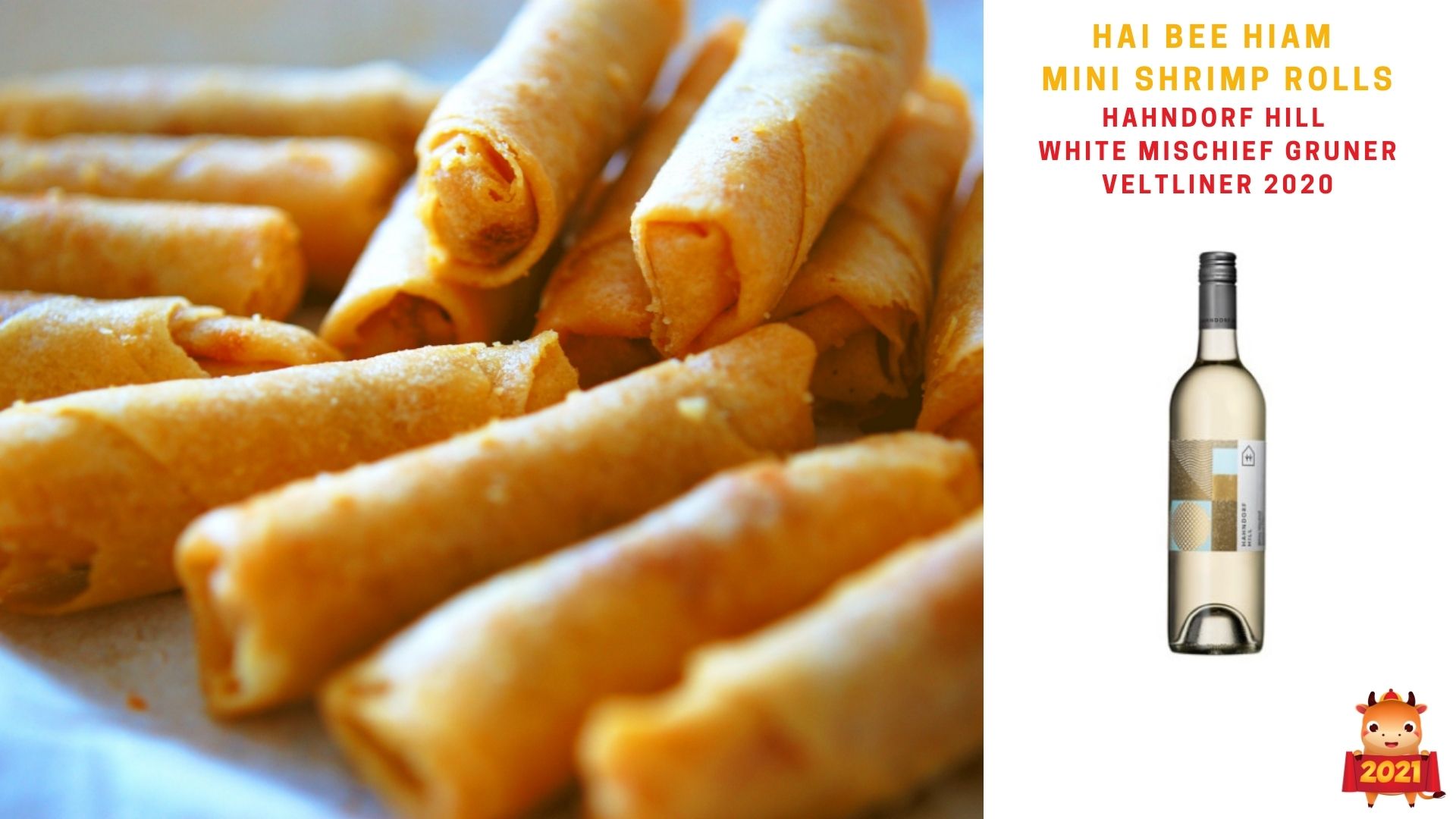 Hae Bee Hiam (Mini Shrimp Rolls) With Hahndorf Hill Winery White Mischief 2020
Mini shrimp rolls or Hae Bee Hiam roll is a popular snack for the Chinese New Year as the shrimps symbolise happiness and good fortune while the spring rolls signify wealth with their gold-bar like shape.
This dry snack that is salty, spicy and crunchy packs a punch because of the spicy prawn paste within so balance it out with a nice white wine like Hahndorf Hill Winery White Mischief. 
This is a 'New World' version of the the more traditional styles of Austrian grape Gruner Veltliner. The nose is bursting with mouth-watering citrus and tropical aromatics and the palate is a vibrant tumble of guava, ruby-grapefruit and gentle spice.
Enjoy it with your Hae Bee Hiam.
Click here to purchase Hahndorf Hill Winery White Mischief 2020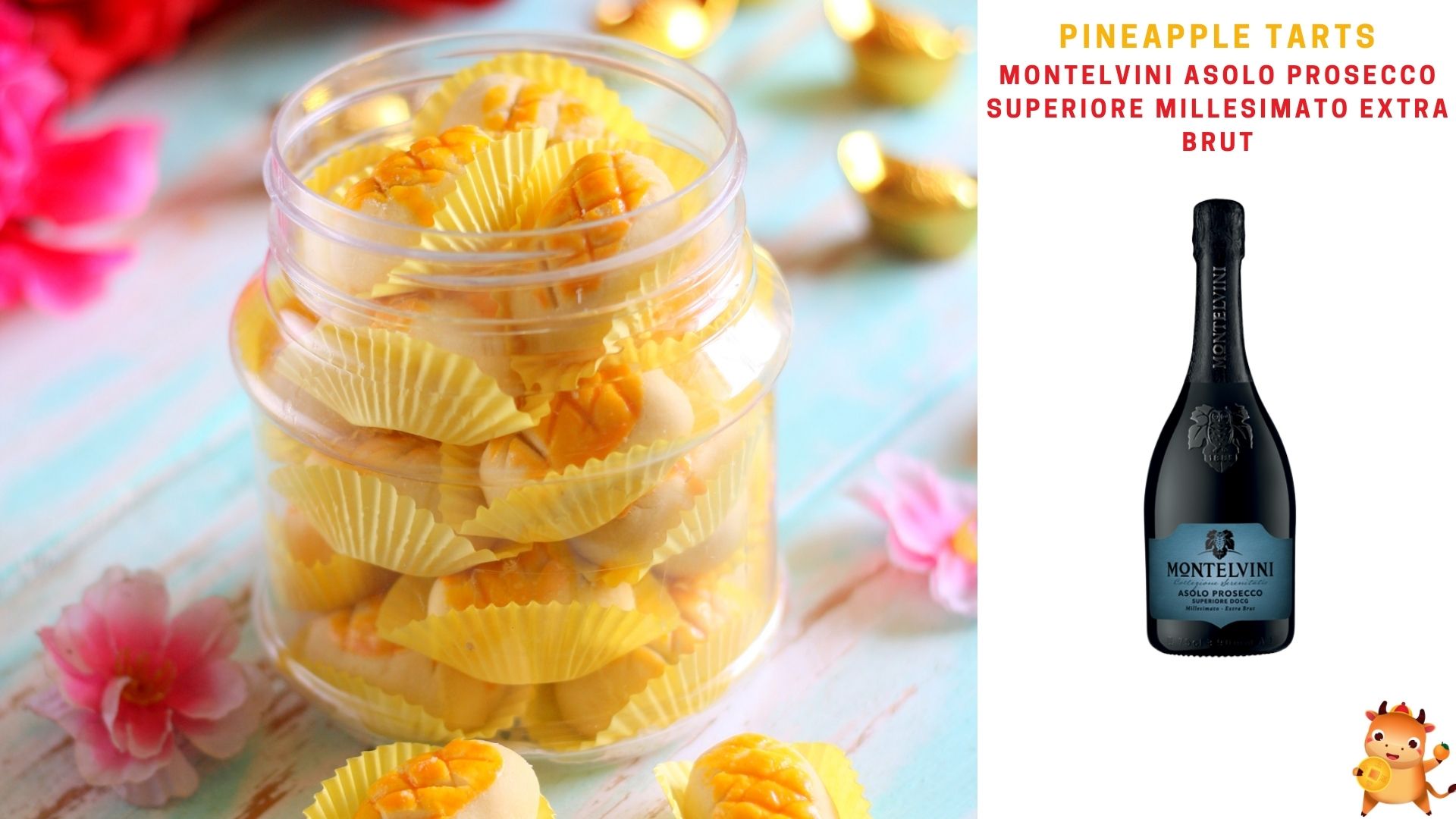 Pineapple Tarts with Montelvini Asolo Prosecco Superiore Millesimato Extra Brut
Pineapple tarts which translates to "Fortune Come tarts" is a big hit during Chinese New Year. The sweet, tangy, buttery and crumbly sweet little snacks are a joy that you can pop right into your mouth.
You can pair with something bubbly and fizzy such as the Italian Montelvini Prosecco which has a careful selection of grapes to ensure a particular finess and harmony balanced by a notable body with an acidic kick to tame the sweetness on your tongue.
Click here to purchase Montelvini Asolo Prosecco Superiore Millesimato Extra Brut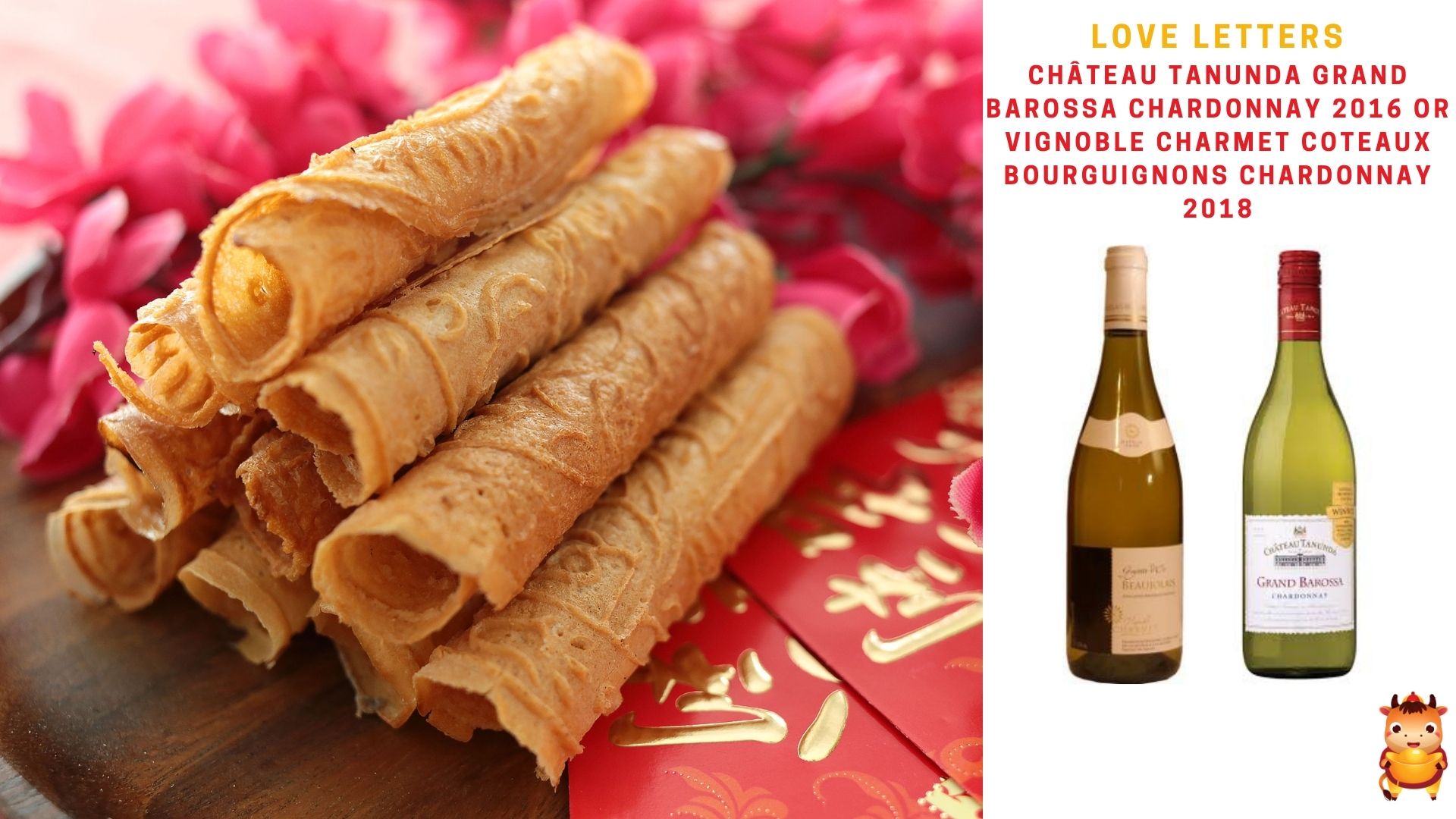 Love letters with Château Tanunda Grand Barossa Chardonnay 2016 or Vignoble Charmet Coteaux Bourguignons Chardonnay 2018
Love letters are a flaky snack that were once used by secret lovers to exchange messages and then eaten to remove all traces. 
The best love letters are baked light and crisp with egg, flour, milk with a whiff of coconut milk fragrance.
Chardonnay which are flavourful on the palate and goes best with creamy snacks boasting mild flavours are the perfect match for love letters.
A good choice will be the Vignoble Charmet Burgundy Chardonnay with it's melon and honey on the nose and smooth citrus tone in the mouth
Château Tanunda Grand Barossa Chardonnay is another lovely choice with it's beautifully ripe and inviting bouquet showing ripe peach, rockmelon and vibrant citrus characters with subtle notes of vanilla and cedar. It is succulent, rounded and flavoursome on the palate with lovely mid-palate weight and roundness, finishing long and comforting. 
We recommend both Chardonnays which are innately buttery, with zesty fruit flavours that will bring love to each love letter you taste.
Click here to purchase Château Tanunda Grand Barossa Chardonnay 2016
Click here to purchase Vignoble Charmet Coteaux Bourguignons Chardonnay 2018
Click here to view our 2021 CHINESE NEW YEAR WINE Offers at https://walaclub.sg/shop?offer=51