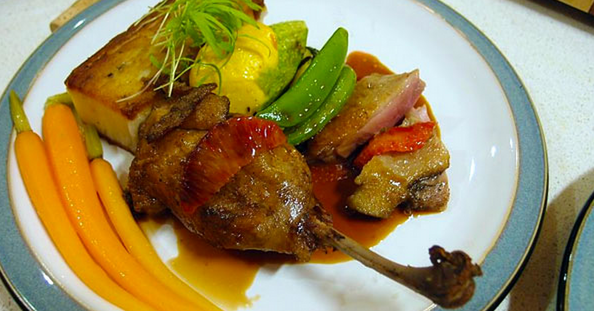 Wine Pairing: Duck Confit with Wine
Jan 01, 2018
If you are looking for an indulgent French dish, try the duck confit.
 The duck confit is a popular dish in French restaurants.
'Confit' is a traditional method of cooking that originated from the South-West of France. In essence, the confit cooking method is slow cooking a certain food in fat. For the duck confit, the cut of meat used is a generally a fatter cut of meat either from a duck's leg or thigh.
The dish is prepared before cooking by rubbing salt, garlic, and herbs into the duck leg and refrigerated for a day. Once ready for cooking, the duck leg is then poached in fat for 4 to 8 hours. After it is poached, the surface of the duck leg is then lightly fried to a crispy finish. The resulting dish is a rich and flavourful piece of meat.
If you are thinking of what wine to pair with this dish, you can choose a more tannic one. The fat and protein in the duck leg 'softens' the tannins in the wine. We've specifically chosen the a wine from Cahors. It also originates from the South-West of France, exactly where the confit technique was born. You can expect an authentic experience since both wine and cooking technique are from the same region. Cahors is a wine region well-known for producing wines with the Malbec grape. This wine has 90% Malbec in its blend and is certified organic. Its bold, powerful nose with aromas of blackcurrant, vanilla, and mushrooms matches the fragrance of the duck confit. 
The oak notes from this wine go well with the browned surface of the duck confit. More wine pairings are available here (examples of pairings with French wines: Pad Thai, Seafood Laksa, Beef Steak, Sushi, Singaporean Chicken Rice, Peking Duck, Roast Lamb…) Wine novice or interested in discovering wines you do not have access to? Every month receive two bottles of exclusive French wines at home with our tasting guide.