Wine Without The Headache Part 2
Jan 01, 2018
Today we are introducing another 2 more new organic wine for you to try, both are Pinot Noir one from France and one from New Zealand.
If you want to find our more about our earlier article on organic wine, you can click on the following link.
Wine without the headache – Is that the promise you heard about organic wine ?
and you can also find out more organic wine we introduced in
Wine Without The Headache Part 3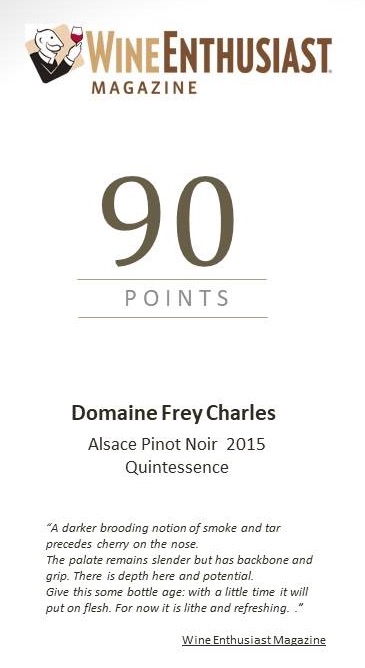 Domaine Frey, Burgundy, France
AOP Alsace Pinot Noir Quintessence, 2016
Black fruits and spices aromas that develop on the palate in a majestic manner around grilled and lightly toasted flavours.
Age of the vine: 20 years
Ageing potential: 10 - 15 years
Culinary Recommendation: To serve 16 C - 18 C. Good match with Red meat, Cheese
Awards:
89/100 wine enthusiast, 2013
1* Guide Hachette des Vins, 2013
90/100 wine enthusiast, 2014
90/100 wine enthusiast, 2015
Learn more about this wine in our online shop
Anna's Way Winery Marlborough, New Zealand
Anna's Way is produced from Awatere Valley and greater Marlborough grapes.
The range consists of Sauvignon Blanc, Pinot Gris, Pinot Noir and Chardonnay and the wines are crafted for immediate drinking and medium-term cellaring.
Anna's Way is a collection of award-winning wines from the renowned winemaker Louis Vavasour. The wines are a tribute to his late mother Anna who pioneered in the Awatere Valley with her husband Peter. The letters AW on the label are the same as those in the wrought iron gates, which were designed by Anna Vavasour and form the entrance to the Awatere River Winery. This winery, with vineyards on the sunny shores of the Awatere Valley, in the Waimea plains and on the rugged slopes of Central Otago, is now owned by son Louis.
The Premium Anna's Way range has been created as a tribute to the visionary nature of Louis' late mother Anna, who was a true pioneer in New Zealand's winemaking history.
This pinot noir is made by gentle handling and traditional methods to promote the vibrant fruit characters that Marlborough is famous for.
The wine is sustainably produced and one hundred per cent organic.
The wine is a beautiful garnet red Pinot Noir that is delicious in taste, with impressive aromas of blackberries, red currants, herbs and a touch of toasted oak. The wine has nice deep flavours of sweet fruit and impressions of earthly complexity. It is silky smooth and supported by fine tannins.
The inspiration for this lively and wood-aged wine was the mother of winemaker Louis Vavasour, who says that she was "bold, stylish and visionary in nature", just like this wine.
Age of the vine: 45 years
Ageing potential: 2 + years
Culinary Recommendation: To serve at 14 C - 18 C. Good match with Oily Fish
Awards:
International Wine Challenge, 2019: Commended
San Francisco International Wine Competition, 2019: Bronze
Learn more about this wine in our online shop
Click the link below to visit our online shop to view all the organic wine that we offer