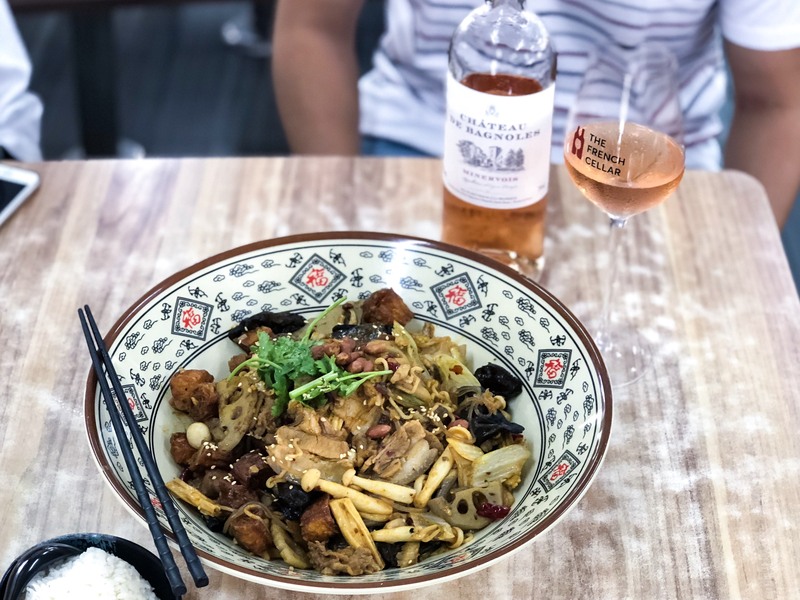 Wine Pairing: Rosé and Mala Xiang Guo?
Jan 01, 2018
It is inevitable for us to crave for a palate-numbing delicacy - Ma La Xiang Guo, even if it means sweating buckets in this sunny little red dot!
The stir-fry dish is a tasty mix of crunchy fresh vegetables like chopped cabbage, sliced lotus roots and wood-ear mushrooms with chilli peppers and spices such as Sichuan peppercorn, fresh ginger and cloves of smashed garlic. It stimulates the tongue as well as the mind and is a free dish where the only limit lays on the combination of ingredients in your imagination.
Though delicious, we must admit that something refreshing may have to be drunk alongside this culinary delight.

Rosé wine- Minervois Rosé, 2017 comes to mind since it is the perfect drink for Singapore's permanent summer! A fruity, easy to drink wine meant to be enjoyed fresh and young. It is stronger than white wines and less than red wines, it is the king of barbecue parties in France and goes well with all sorts of dishes, even spicy ones! Due to its aromatic strength and light acidity clearing the oily sensation, it dispels excess spices while drawing out the crunch of the vegetables and the meat flavours. It will bring the refreshment expected of iced soda, the twist of French wines as well as the relaxed sensation the French will get when having wine with food.

 
Rose and Mala Xiang Guo is, therefore, the perfect blend of Singaporean gastronomy with French joie de vivre (easy living). Enjoy this pairing recommendation, after work with your friends at dinner, or with your family over the weekend!
(Not valid for wine bundles) 
Wine novice or interested in discovering wines you do not have access to? Every month receive two bottles of exclusive French wines at home with our tasting guide. Find out more