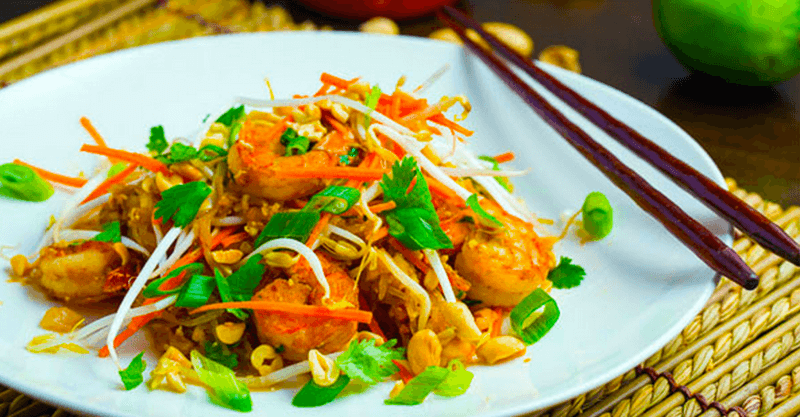 Wine Pairing: Pad Thai with Wine
Jan 01, 2018
You can choose a great wine to accompany this dish.
Pad Thai and Gewurztraminer make a very savory pairing.
Pad Thai has been a favourite Thai food in Singapore for a long time. This dish features a stir-fry of shrimp, vegetable, herbs, and thick rice noodles. Its a perfect mix of fresh produce from land and sea. Chilli sauce or flakes may be added as well to give the dish that extra 'kick'. The whole mix is then given a peanut garnish. The end result is a wonderfully flavorful and complex dish.
You can choose a great wine to accompany this dish. Because of the Pad Thai's rich textures, a pairing wine should have a medium to heavy body. Given that this dish can be aggressive on the palate, you can choose a wine that is of medium to high intensity. A chilled white wine will help you defuse some of the spiciness from the Pad Thai.
Our preference is an aromatic Alsace white wine made of the Gewurztraminer grape. This is a medium bodied wine with high acidity. The acidity is good for cutting through the richness and complexity of the dish. The wine has fruity aromas of pear, lychee and pineapple. The fruitiness goes well with the spiciness of the dish. It helps calm the spicy sensations on your tongue. The fruitiness also goes well with the saltiness from the fish sauce in the dish.
All these qualities make Gewurztraminer a suitable pairing wine for the spicy Pad Thai.
More wine pairings are available here (examples of pairings with French wines: Seafood Laksa, Beef Steak, Sushi, Singaporean Chicken Rice, Peking Duck)
Wine novice or interested in discovering wines you do not have access to? Every month receive two bottles of exclusive French wines at home with our sommelier's tasting guide. Find out more