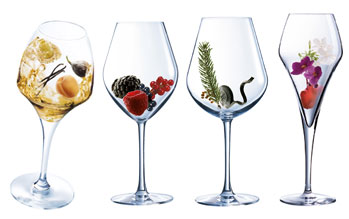 Fun Facts: The Bordeaux Red Wine Glass
Jan 01, 2018
The shape of a Bordeaux wine glass.
It's said that the way a wine flows onto your tongue can amplify your tasting experience.
The shape of the wine glass can be used to direct the wine flow to the areas of your palate that best express the flavors and aromas of a specific wine grape.
Glassmakers like Chef&Sommelier, Riedel have been making wine glasses that suit different types of wine.
The Bordeaux wine glass pictured above is designed with a tall bowl area to capture air to allow the wine aromas to develop well. The glass also allows you to direct the flow of wine to specific parts of your tongue, thereby enhancing the fruit flavor and softening the feeling of tannins.
Though it must be said, you can still enjoy a Bordeaux wine without this specific wine glass. Consider it fun addition to your stemware collection.
Wine novice or interested in discovering wines you do not have access to? Every month receive two bottles of exclusive French wines at home with our tasting guide. Find out more  
Glasses available in our online shop: glasses suitable for tasting all types of wines & decanter
Wala Club WineMag: click here to read more articles, terms, tips and advice!
Two nice bottles of wines delivered at your doorstep every month with our tasting guide. Find out more