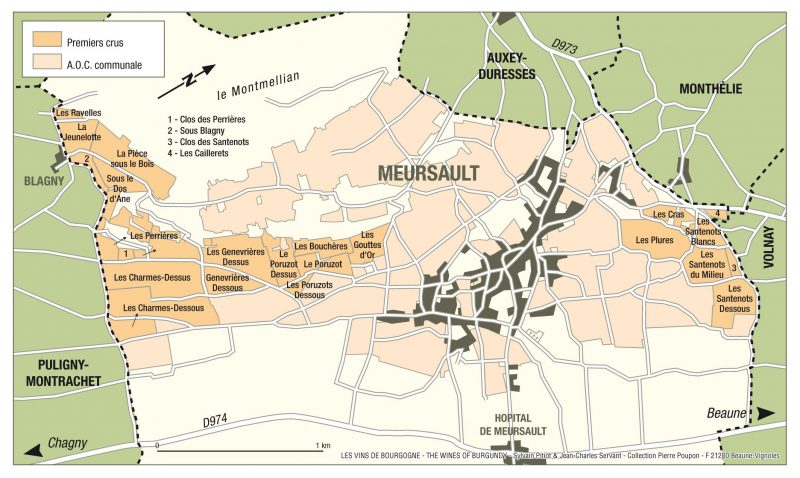 Meursault: Your Stairway to Chardonnay (Heaven)
Apr 04, 2020
Meursault (pronounced "mer-so") bestows upon us one of the greatest chardonnays in the world. If buttery, toasty white wines are your cup of tea (more aptly, glass of wine), the Meursault appellation is your perfect gateway to satisfy your wine-ppetite.
Meur-sault Good!
Located in Côte de Beaune subregion of the Burgundy wine region, Meursault is most known to produce predominantly white wines, most of which are 100% chardonnay. From "village wine" to prestigious Premier Crus, the appellation offers a wide range of white wines.
So does Meursault only have chardonnay? Nay. AOC regulations allow to mix pinot blanc for white wines and produce pinot gris for red wines (yes, red Meursaults), although not many winemakers practice this mix. Interestingly—albeit not that useful—some say that "Meursault" means "Mouse's Jump", because in the olden days the plots producing red wines were not separated from those producing whites by more than a mouse's jump.
We Like Big Buttery Wines and We Cannot Lie
The most common word to describe a Meursault chardonnay is probably "buttery". This, as well as toast (brioche), vanilla, almonds and hazelnuts can be attributed to oak-aging as the oak barrel gives the earthy tones to the wine.
On the nose, floral (hawthorn, mayflower), mineral, citrus (lime) and other sweet aromas (honey, peach, apricot) mingle together and invite you for a sip. Upon a sip, blossoming notes of butter and toasted nuts give a rich and plump palate. The lively palate allows for a magical balance of unctuousness and freshness that results in a silky texture. Lastly, the finish is juicy and persistent, leaving a satisfying, structured impression on the tongue.
Our selection for Meursault, the Rodolphe Demougeot 2015 emits a bright golden yellow with green reflections and it bronzes as it ages, typical of Meursault chardonnays. A splendid nose with fresh brioche and fruity aromas are accompanied by the creamy, round palate.
Meursault's Food Buddies
The rich yet delicate chardonnay is best paired with fine-textured fish or meat. Trout and grilled shellfish will not overpower the wine, while creamy dishes such as chicken or veal in white sauce are sure to enhance the butteriness and distinguished acidity. Crisp and aromatic textures of the food can match with the wine's lively minerality and supple balance of the wine. Blue cheese and foie gras are good pairings as well.
The Rodolphe Demougeot specifically pairs well with risotto with white truffles, caramelized chicken, and turbot with seaweed. For those of you who are more adventurous, try pairing the chardonnay with Asian dishes such as fatty tuna with mentaiko mayo sauce, salted egg prawns with no dry chilli and pen cai (poon choi), especially with seafood such as abalone, shark fin, squid and light meat such as pork.
Drink Them Right
Remember that, if you want to enjoy your Meursault at its full potential, you must keep it and drink it at the right temperature. The perfect temperature to drink this wine is 12 - 14°C, which is in the upper range for white wines, because if it's too chilled, you can't enjoy the butter and toasted notes as much.
When stored properly (in a wine chiller or cellar), Meursaults can be kept for a long time (up to 10 years cellaring), so it'd also be a fun experiment to see how the Meursault turns out after a few years of aging.
So what are you waiting for? Order away our Meursault, Rodolphe Demougeot 2015, because stocks are running very low!
These wines are exclusively imported by Wala club, so join us on a wine discovery journey and find the best wines that suits your palate! Click here to find out more.
Wine novice or interested in discovering wines you do not have access to? Every month receive two bottles of exclusive wines at home with our tasting guide.