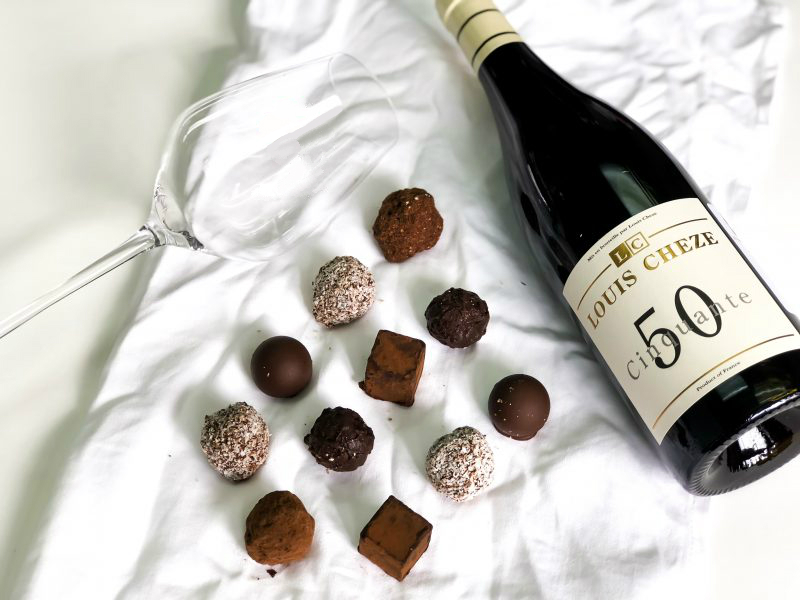 Wine Pairing: 5 Wine & Chocolate Pairings to Satisfy Your Sweet Tooth
Jan 01, 2018
What happens when you pair arguably the two most romantic things in the world, wine and chocolate? Though on first thought the idea might sound easy, pairing wine and chocolate can actually be difficult as it largely comes down to personal taste and one pairing that works well for you may not work for others.
 Here's a general rule of thumb though:
the wine should be just as sweet and intense as the chocolate, meaning one shouldn't overpower the other (including the percentage of cacao and tannins - chocolate has tannins too).

Keeping this in mind, you can be flexible and experiment a few combinations to find the seamless synergy that suits your own taste.

 
 Below are our picks of chocolate pairings with French wines. Keep it as a general guide and start experimenting!
 1. White Chocolate with Meursault, Rodolphe Demougeot, 2015
Okay, so white chocolate technically isn't a "real" chocolate (it doesn't contain cacao), but it is loved by many and pairs well with wine too! White chocolate is delicate and mellow enough to match with white wines, especially ones that are buttery and vanilla-like.
 The Burgundy chardonnay from Rodolphe Demougeot 2015, Meursault, is an ideal candidate that can pick up the white chocolate's creamy textures. Through its citrus and apricot aromas, it highlights any fruitiness that may be buried within the white chocolate. The Meursault's round and rich body with notes of brioche are also traits that enhance the flavours of both the sweet and the beverage.
Wine:

Meursault, Rodolphe Demougeot, 2015

 
 2. Milk Chocolate with Blaye Côtes de Bordeaux Rouge 2015, Château Bellevue
Milk chocolate is perfectly in between extremely-sweet and extremely-bitter, making it a chocolate that works well with various wines. A medium-bodied merlot can compliment the semi-sweetness and ripe fruit character of the chocolate.
 A Bordeaux Rouge from Blaye Côtes, the Château Bellevue merlot breathes intense flavours of plum and black berry that accent the smooth character and cocoa butter components of the milk chocolate. The creamy, silky feel in the mouth is also boosted by the merlot's short but decadent finish and soft, tingling tannins.
Wine:

Blaye Côtes de Bordeaux Rouge 2015, Château Bellevue

 
 3. Dark Chocolate with Château La Croix du Duc, Bordeaux Rouge 2016
By definition, dark chocolate contains a minimum of 35% cocoa solids. Its higher cacao content calls for a wine that is full-bodied and intense in aromas and flavours, such as merlot or the Bordeaux blend (merlot, cabernet sauvignon, cabernet franc).
The La Croix du Duc red consists of the Bordeaux blend and expresses a myriad of dark fruits and its own indigenous chocolate flavours, perfect for dark chocolate that still has an intrinsic sweetness. Its velvety palate of dark cherry and berry are sure to add interesting notes to the sweetness of the chocolate and end off on a long, dark finish.
Wine:

Château La Croix du Duc, Bordeaux Rouge 2016

 
 4. Semisweet Dark Chocolate with Côtes du Rhône, Bio Orby 2017
Now imagine a semisweet dark chocolate, infused with cocoa butter and sugar. Its slightly spicy notes and rich texture can be balanced with a spicy and round wine such as syrah, or a blend of it.
A combination of syrah, grenache and cinsault, the Bio Orby from Côtes du Rhône embodies peppery notes and hints of nutmeg and violet that complement the spicy notes of the chocolate while enhancing the sweetness. The wine's rich consistency as well as its smooth tannins also parrot the round palate of the semisweet dark chocolate.
Wine:

Côtes du Rhône, Bio Orby 2017

 
 5. Non-Sweet Dark Chocolate with Cahors Tradition Rouge, Domaine de Cause 2016
For the ultimate, non-sweet dark chocolate, red wines with some residual sugar (natural sugars that are leftover after fermentation stops) can usually do well. But a powerful, full-bodied red such as a Cahors malbec that can combat the bitterness and firm structure of the chocolate is great too.
 The malbec from Domaine de Cause and non-sweet dark chocolate both have inherent mocha and dark fruit flavours. Strong tannins from both the candy and wine also complement each other and the combination finishes off with lingering black fruit notes. Though it may be overly powerful, isn't that the point of having dark chocolate anyways?
Wine:

Cahors Tradition Rouge, Domaine de Cause 2016
Interested in more pairings? Check out wine pairings with Asian food here. 
 These wines are exclusively imported by Wala club, so join us on a wine discovery journey and find the best wines that suits your palate!
 Wine novice or interested in discovering wines you do not have access to? Every month receive two bottles of exclusive wines at home with our tasting guide.