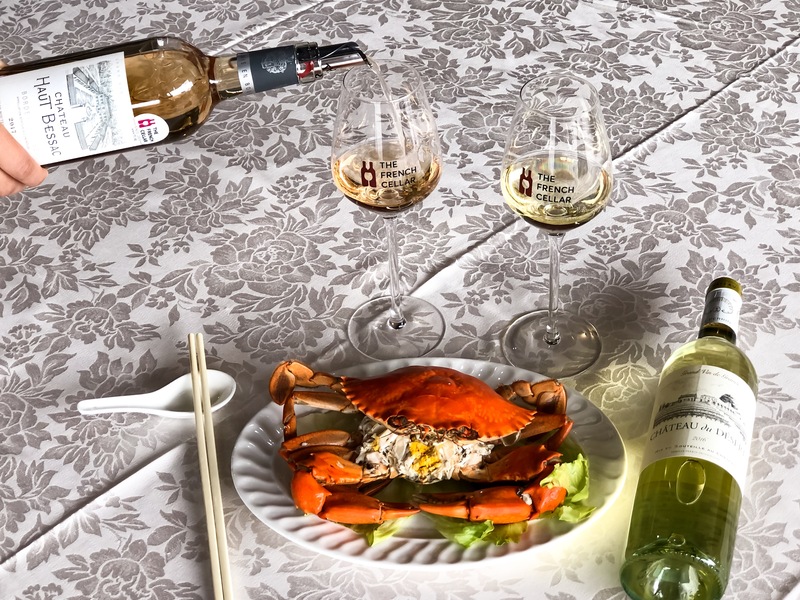 Páng Xiè (螃蟹, Crab) Fā Cái: Cold Crab with French Wine
Apr 04, 2020
Páng Xiè Fā Cái (螃蟹: crab, 发财: enlarge wealth)! Translation: may crab bring you more wealth!
One of Singapore's favourite dish for dinner to gather, crab is perfect for sharing - let's not be "shellfish" - and it never fails to satisfy our palates and stomachs. Of course, we can't emphasize this enough, but good food is always better with good wine as you can see below.
Lee Do Cold Crab with French Wine
Lee Do Cold Crab, our free corkage partner restaurant Lee Do Restaurant's signature dish, boasts the crab's inherent sweet meat and is full of creamy, golden roe that melt in your mouth. Only crabs that have enough roe are specially selected to be steamed and chilled in a fridge, resulting in a meat that is soft and delicate.
In order not to overpower this delicate flavour, it is important to have a low tannin wine. Also, as the Cold Crab is simply prepared, strong and heavy wines are out of the question. Keeping this in mind, let's see what we have in store - literally!
A French Classic: Seafood with Rosé
With its crisp minerality, the Bordeaux Rosé, Château Haut Bessac 2017 brings out the freshness of the crab. The rich white shellfish is also minerally, but the rosé's vibrant layers of fruit engulf the meat in a tornado of citrus and red fruit flavours.
Although the Haut Bessac is tannic, the tannins are light and extremely smooth to match the crab meat's intensity - or the lack thereof. The fruity tannins actually neutralize the spicy garlic chilli sauce served with the crab, and adds depth to the buttery crab roe. Overall, the easy-drinking wine pairs very well with the delicate crab.
White Wine Wonder
A blend of sauvignon blanc and sémillon, the Pessac-Léognan Blanc, Château du Désert 2016 is a crisp, fruity white wine and it goes very well with the crab too. The citrus and white fruit aromas with slightly toasted notes cut the fishiness of the crab, while the wine's natural acidity matches the freshness of the shellfish.
The white wine also has fatty, woody and vanilla aromas that butter down the crab meat and roe. But these earthy flavours really do their wonder when you take a sip of the wine after a bite of the briny crabshell, which brings out the oakiness of the rather young white from the famous Bordeaux appellation.
Wine not try something new for your next dinner?Have a look at our wine subscription with a 0% interest Instalment Payment Plan

 

and enjoy free corkage when you bring The French Cellar wines (with QR code) to more than 80 restaurants in Singapore!
You may also check out some other cool pairings here and here.
Wine novice or interested in discovering wines you do not have access to?  Every month receive two bottles of exclusive French wines at home with our sommelier's tasting guide. Find out more