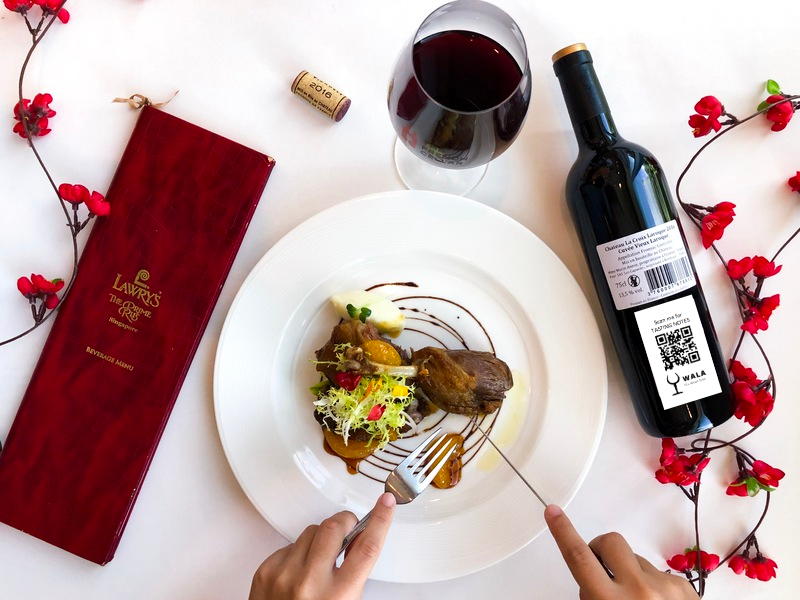 May Your New Year be Filled with Duck
Apr 08, 2020
No Chinese New Year is complete without (mandarin) oranges, even when the orange is made into a sauce for confit de canard, or duck confit.
One of our free corkage partner restaurants, Lawry's The Prime Rib is serving a Chinese New Year special, Prosperity Rougie Duck Leg Confit, served à l'orange (glazed with orange sauce). So being the foodies we are, we paired our wines with this amazing French gourmet.
Duck Confit and Wine
Duck confit, which means 'preserved' duck, is a traditional French delicacy where the duck is salt-cured, then cooked and stored in duck or goose fat over a long time.
Most wine books or online forums will tell you that Pinot Noir, especially that of Burgundy, is the perfect match for duck confit with orange sauce, and rightfully so. The fruitiness of the wine complements the tangy sauce well while the light body is not too strong to overpower the duck. But there are other wines that pair perfectly too, such as...
Fruity and Strong: Fronsac 2016 from Right Bank Bordeaux

To pair the fatty duck, we need a slightly young and tannic wine to cut through the rich structure of the duck fat and meat. The
Fronsac red wine from Château La Croix Laroque

is a refreshing, fruity red with heavy tannins. It's mostly consisted of merlot, which gives off the fruity berry flavours to the wine that balances the grease perfectly.
The sharp tannins of the wine adds an edge to the succulent juicy flesh that falls right off the bone. With a bite of the crunchy asparagus, the wine is accentuated even more with its berries and liquorice aromas seeping through the vegetable.
Spicy and Balanced: Orby 2017 from Côtes du Rhône
Duck meat also has the taste to carry the flavours and tannins of slightly more spicy red wines like Grenache or a classic Côtes du Rhône GSM blend (grenache, shiraz, mourvedre). The Côtes du Rhône Orby 2017—a blend of grenache, shiraz and cinsault—is an amazing wine to do the job.
Slightly acidic to offset the fatty duck, the Orby gives off spicy notes of pepper and nutmeg that enhance the aroma of the crispy skin. Its fruity consistency also cuts the duck meat's slight bitterness and harmonizes with the orange sauce. Also, the wine's smooth tannins and long finish on red fruits is a perfect ending to a mouthful of truffle-infused US Idaho mashed potatoes.
Wine novice or interested in discovering wines you do not have access to? Every month receive two bottles of exclusive wines at home with our tasting guide.