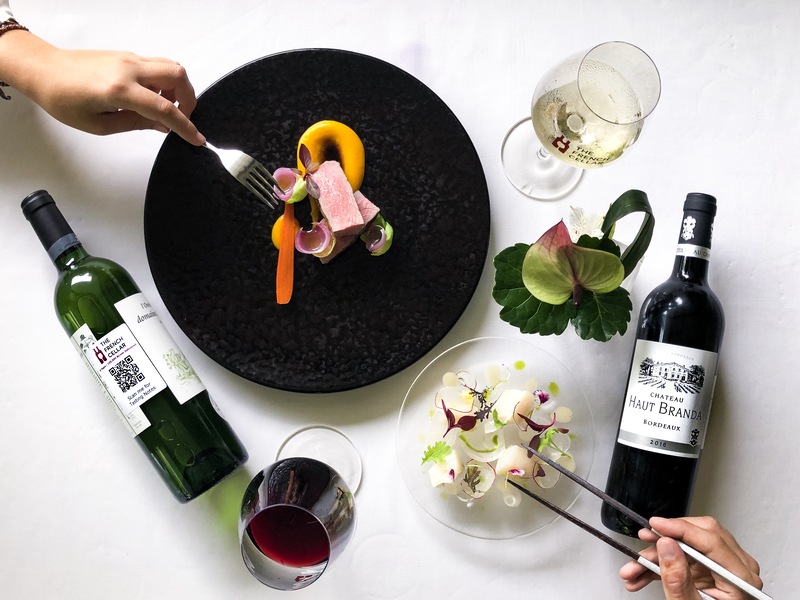 Lewin Terrace: Japanese-French Fusion Food & French Wine
Apr 04, 2020
Imagine yourself in the midst of peaceful greenery, tasting a curious amalgam of two prominent cuisines with a glass of wine.
Well, we did just that at Lewin Terrace, one of our Free Corkage partner restaurants that serves Japanese-French fusion food. Of course, no French food (whether authentic or fusion) is complete without French wine, so we brought our wine selections to the restaurant on Fort Canning to give our taste buds a treat. Itadakimasu and bon appétit!
Yuzu Scallop with Crystal Salad - Gaillac Blanc 2017
Lewin Terrace first showcased their Japanese-style salad with fresh Hokkaido scallops, and we paired this sweet and fresh appetizer with our Gaillac Blanc 2017, a well-balanced white with a fair amount of acidity and pleasant citrus aromas.
Within the first bite, you can tell the lemon flavours of the Gaillac heighten the tangy yuzu sauce, while the fresh salad restrains the citric juice from overflowing. Then with its high acidity, the wine cuts through the scallop meat's natural rich texture. This crisp and refreshing acidity cleanses the palate and demands another bite of scallop, making it extremely difficult to stop this cycle of eating and drinking.
Premium Japanese Angus Beef - Haut Branda, Bordeaux 2016
Following the fresh scallops, the Japanese Angus Beef with micro vegetables and pumpkin purée called out for a delicate Merlot, and our Château Haut Branda, Bordeaux 2016 stepped in to save the day.
Grilled to medium-rare perfection, the angus beef slices are lean yet juicy, as the vegetables and pumpkin purée bring out the quality of the cuts. Generally, lean meat is paired well with an aged red with softened tannins. But although the Haut Branda is young, its round and silky tannins sing a perfect melody with the protein in the meat, while the cherry and raspberry flavours of the wine and pumpkin purée harmonise beautifully to create music in your mouth. In the end, the long, fruity finish of the wine enhances the pristine rareness of the meat.
Want to do your own food & wine pairing? Bring The French Cellar bottles to Lewin Terrace and our other partner restaurants with no corkage fees!
Wine novice or interested in discovering wines you do not have access to?  Every month receive two bottles of exclusive French wines at home with our sommelier's tasting guide. Find out more