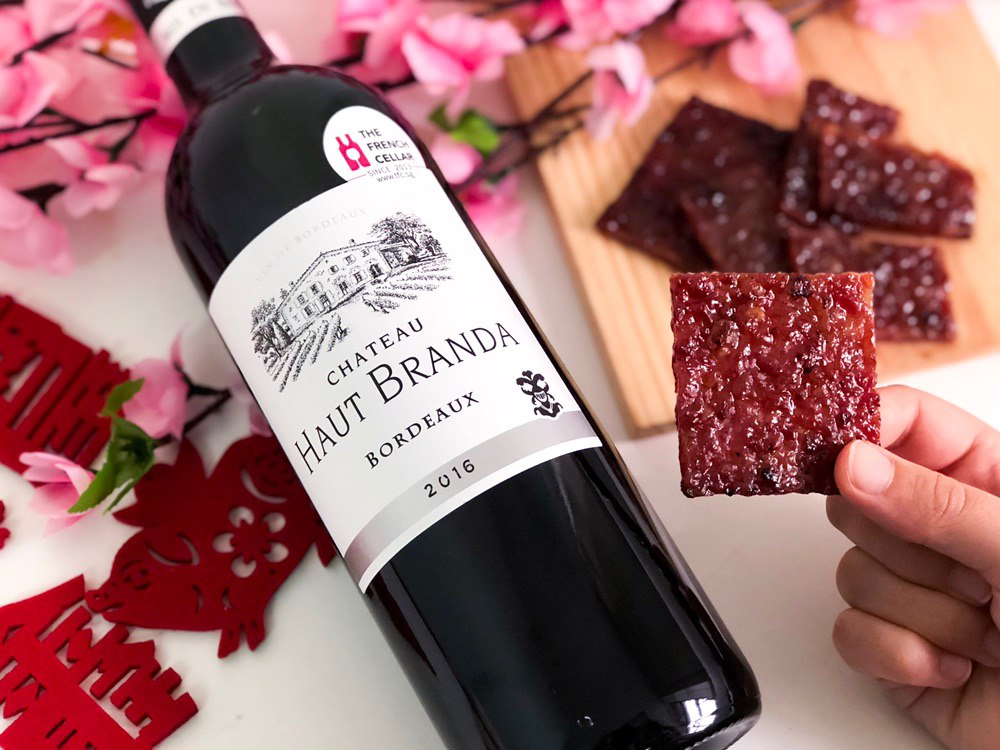 Wine & Bak Kwa for the Year of the Pig
Apr 04, 2020
It's that time of year again when we stuff our faces with Chinese New Year goodies. And who among us can resist bak kwa, the greasy, meaty, smoky delight that is quintessentially Singaporean?
Bak kwa was traditionally considered an expensive, luxury food, and its auspicious red colour did another part to make it an essential CNY snack. So why not add wine to the picture for more prosperity? See below for our selections or our wine bundle specially curated for bak kwa!
Red - Follow Your Instinct
Red meat with red wine is a pretty standard pairing, and is applicable in this case too.
One of our new red selections, Château Haut Branda, Bordeaux 2016, is a great friend to bak kwa. The spices of the Haut Branda enhance the smokiness of the meat, while the wine's cherry and currant flavours balance out the grease. The harmony finishes on a fresh note with the wine's perfect balance and silky tannins that cut through the protein and fat.
Rosé - In Between
The dry French Rosé is another great companion to bak kwa, especially for the spicy types.

Check out our Minervois Rosé 2017 from Château de Bagnole with its bouquet of red berry aromas and peach notes that engulf the meat's smokiness and spiciness with a fruity blanket. Withstanding the bak kwa's strong meatiness, the rosé stands its ground with its light spice notes and long, consistent finish.
White - Discover Exciting Flavours
If you feel more adventurous, try having bak kwa with a white wine. The result may surprise you!
Our Gaillac Blanc 2017 from Domaine d'Escausses in Languedoc is the perfect candidate. Its delicate citrus aromas disperse in the mouth, just dry enough to not overpower the meatiness. Adding another dimension, the crisp acidity of the Gaillac cuts the juiciness of the bak kwa wonderfully.
Like what you read? Here are other wine bundles to stock up for your CNY gatherings!
Wine novice or interested in discovering wines you do not have access to?  Every month receive two bottles of exclusive French wines at home with our sommelier's tasting guide. Find out more