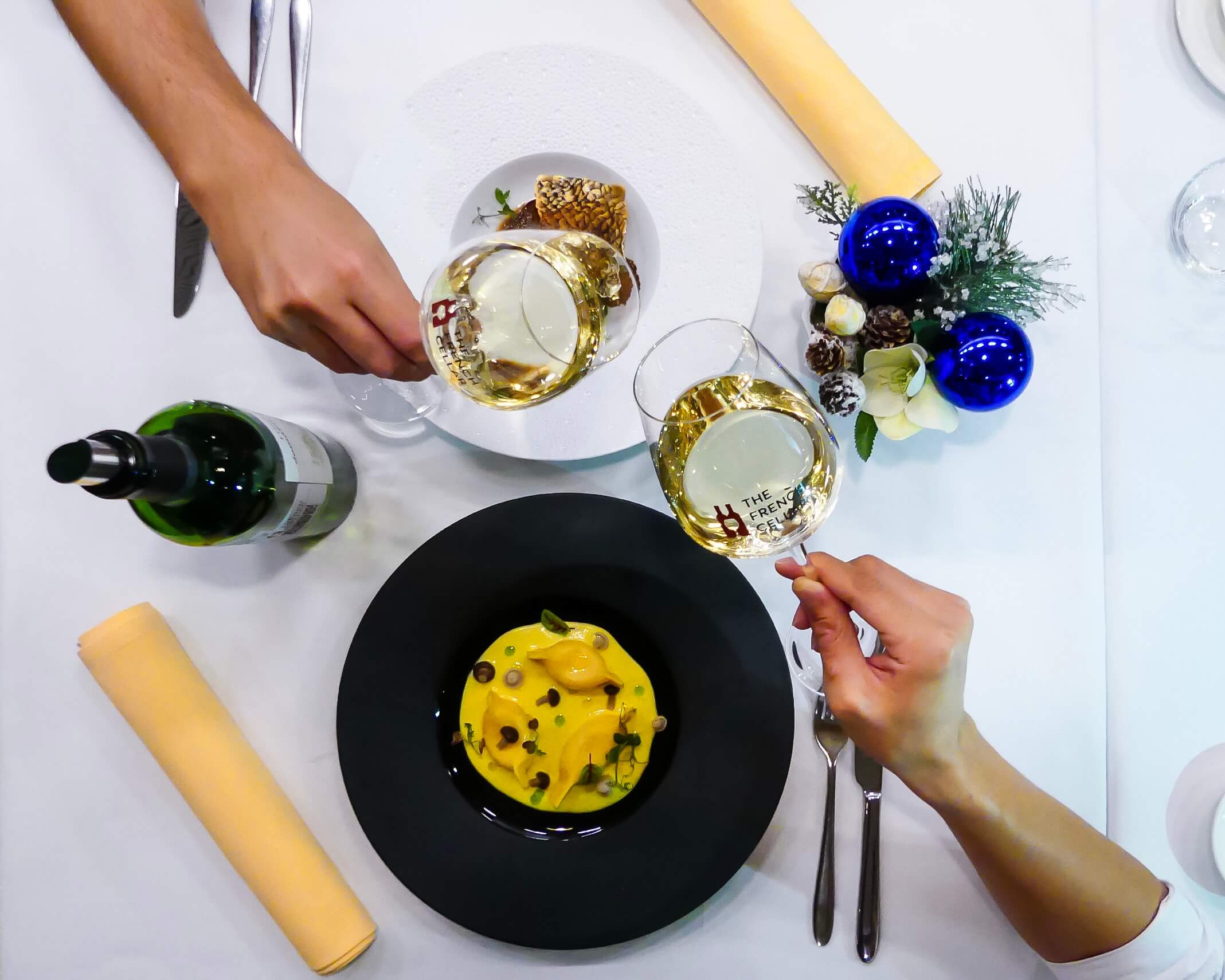 A European Surprise in Your Mouth
Apr 08, 2020
We paired our white wines with exquisite dishes from Fratelli Trattoria, Resorts World Sentosa. Good food always goes better with good wine!
---
Homemade Casoncelli with Taleggio Cheese Filling, Corn Cream and Mushrooms
Chef David from Fratelli Trattoria worked his magic to concoct this amazing Italian pasta dish (and tortured us while we were watching). Casoncelli is a stuffed pasta originating from Northern Italy, and here's a tip to pair pasta with wine: ignore the pasta itself and focus on the fillings, if any, and the sauce.
In this case, we paired the cheese filling and corn cream with a well-balanced, off-dry white wine, our
Galtier Blanc
as it is one of the fuller whites that can combat the heavy cheese and cream. A fruity yet slightly savoury wine, the Languedoc wine does its wonder when the cheesiness of the pasta engulfs your mouth. The spiciness from the grenache grape enhances the sauce while the marsanne grape's honey and floral aroma mimics the butteriness of the taleggio cheese and sweet creaminess of corn cream.
Another great complement to the cheese is the viognier grape, where its small quantity in this particular blend does not hinder its oaky, buttery finish from harmonizing with the cream. Of course, the combination of the wine's beautiful pale gold and the corn cream's earthy, royal yellow colours is also an eye candy.
Soya and Honey Glazed Atlantic Cod Fish with Truffle Cannellini Beans and Air (Bubbles) of Porcini Mushroom
Golden rule: A medium-bodied white is the way to go for a light fish dish. Sauvignon blanc is versatile enough to go with almost anything, but it goes especially well with white fish. We chose our
Gaillac Blanc
- a sauvignon blanc, muscadelle, loin de l'oeil blend - to pair the fish as well as to complement the light soya and honey sauce.
Upon the first bite of the cod, the muscadelle grape's discreet and appealing floral notes dance with the sweet-and-savoury sauce of the fish. The powerful fruit notes of the loin de l'oeil also help to neutralize the soya sauce and enhance the honey taste. After the outer layer, however, the sauvignon blanc's zestiness is the superstar that seeps into the flaky cod meat and creates a nice symphony of umami and acidity.
The truffle-infused beans and bubbles of the mushroom are delicate, and pair well with the fragile, aromatic muscadelle. All in all, with its crispness and fruitiness, the Gaillac embraces the variety of flavours that the cod dish throws at you.
Celebrate With Your Friends and Family
Celebrate the new year by visiting one of Resorts World Sentosa's extraordinary restaurants for a night of amazing food and wine. Bring The French Cellar bottles (with QR codes) to enjoy our wines with no corkage fee!
You can find a list of RWS restaurants and more of our partner restaurants

here

.

 
Wine novice or interested in discovering wines you do not have access to?  Every month receive two bottles of exclusive French wines at home with our sommelier's tasting guide. Find out more