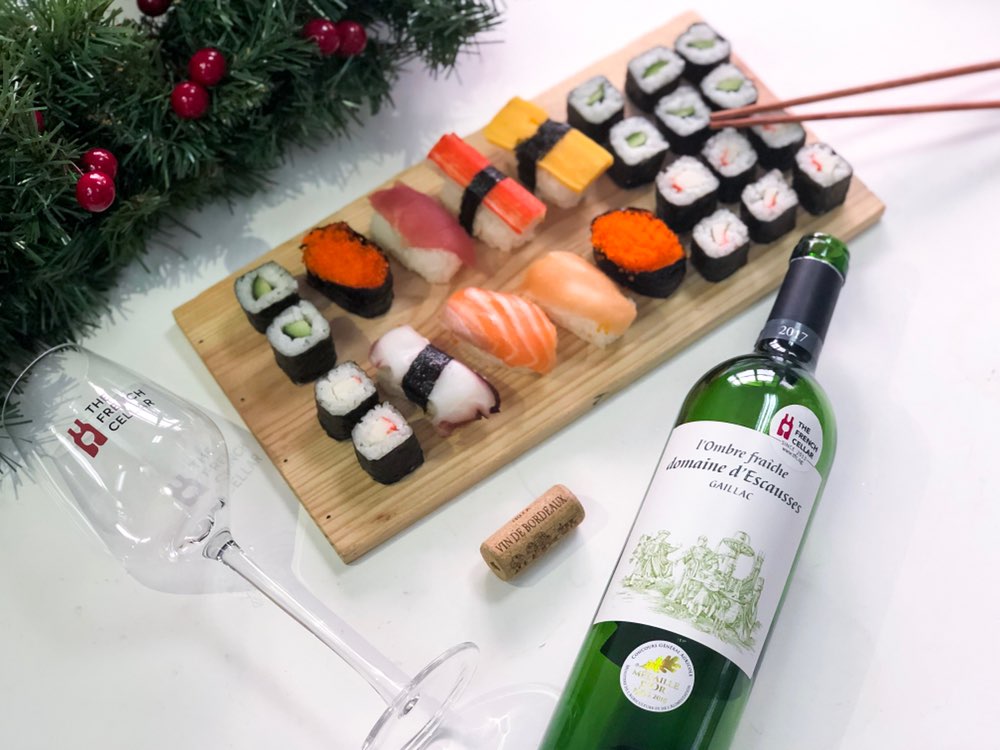 Wine Pairing: ♫ Oh, Bring Us a Plate of Sushi and a Cup of Good Wine ♫
Jan 01, 2018
Whether you've been naughty or nice, celebrate Christmas with rosé and rice!
Sushi may not be the first dish that pops into your mind when you think Christmas; but what other dish can offer you a symphony of different flavours and colours that represent the festivity of this joyful season?
To pair wines for raw fish, we recommend white and rosé wines with low or no tannins to match the light to medium intense flavours of the sushi. Our selections are below.
Squid and Crab Stick with Gaillac Blanc
The refreshing Gaillac Blanc is our first choice for the squid sushi (especially because our sommelier said so in his pairing advice). Its citric acidity from the sauvignon blanc grapes dances well along the clean fishiness of the squid as well as the vinegar flavour of the rice. The wine is extremely fragrant, but dry enough to let the squid taste ooze in the mouth.
The Gaillac also teams up nicely with the cucumber maki, where the freshness of the cucumber is brought to another level with the green aromatics of the wine. For the crab stick varieties, the delicate lemony finish of the muscadelle encompasses the saltiness and adds more flavours.
Salmon and Fish Roe with Minervois Rosé
For the fatty salmon sushi, our Minervois Rosé is a great choice, for reasons other than the obvious pink-on-pink combination. The redcurrant and peach notes from the grenache grapes really pop with the salmon fat while the minerality sweetens the fishy salinity just right.
 Another possible companion of the rosé is the seaweed-wrapped fish roe sushi that is mild-tasting and crunchy. Due to the rosé's freshness and slight spiciness, the exciting crunch of the roe is heightened and its neutral flavours relished.
Tuna with Condrieu
Last but definitely not the least, we have the tuna sushi with our Condrieu for those seeking higher end wines. The Condrieu, made of viognier grapes, has an intense nose with yellow fruits and notes of vanilla and violet that stand up to the thick fat of the tuna. It is almost as if the fat is preparing the welcoming of the fruity, honey-like flavours of the wine when it greases the mouth. In the end, the tuna's fishiness is offset by the wine's minerality.
 Our Verdict
Realistically, sushi may seem difficult to pair with wines because the flavours are just so diverse. Still, any of the 3 wines we recommend will be a great company to most sushis out there. Perfect idea for this Christmas, don't you think?
You may have noticed that we did not pair our wines with any of those fancy rolls. This is another pairing for another time, and it gives us more reason to drink at work. #workperks
Wine novice or interested in discovering wines you do not have access to? Every month receive two bottles of exclusive French wines at home with our tasting guide. Find out more