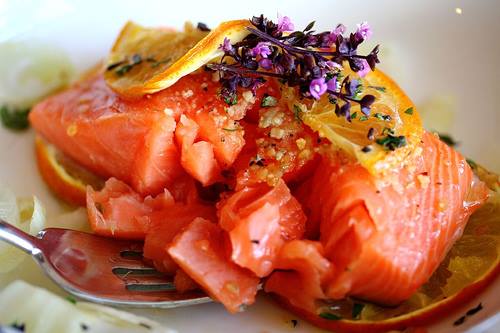 Wine Pairing: Baked Salmon with Wine
Jan 01, 2018
Baked salmon is delicious with wine.
Salmon is a fish with health benefits for both your brain and heart. It helps that it is delicious to eat as well. Its succulent meat has strong flavors and a delicate texture. When baked with herbs and sprinkled with a dash of lemon juice, it tastes fresh and zesty. As salmon is a fish with stronger flavors compared to a normal white-fleshed fish, we recommend venturing away from the conventional 'white wine with fish' pairing. Today, we look at pairing a red wine with the salmon. How the salmon is cooked will determine the suitable red wine pairing. If the salmon is grilled or seared, a red wine with heavier weight like from Rhone Valley or Languedoc would work well. However, in this case we are looking at a baked salmon. So, the red wine pairing that we recommend is of a lighter weight. You can try pairing the baked salmon with a Pinot Noir from Alsace. The SAINT HIPPOLYTE SILBERGRUB, DOMAINE FRANÇOIS BLÉGER, 2011 fits this description well. It's fruity body provides an interesting complement to the salmon. The wine's freshness and acidity helps bring excitement to the dish. Further, the additional aromas of pepper and vanilla make it a savory pairing. If you are willing to try something different, you can choose to pair the salmon with a Rose wine. The CHÂTEAU SIMONE ROSÉ, PALETTE, 2013 will do just that. It's fruity and minty body adds interesting layers of flavor to the salmon. More wine pairings are available here (examples of pairings with French wines: Seafood Laksa, Sushi, Singaporean Chicken Rice, Peking Duck)
The French Cellar WineMag: click here to read more articles, terms, tips and advice!
Wine novice or interested in discovering wines you do not have access to? Every month receive two bottles of exclusive French wines at home with our sommelier's tasting guide. Find out more