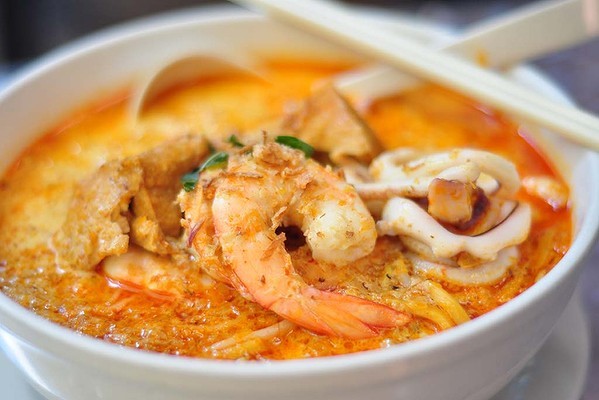 Wine Pairing: Seafood Laksa with Jura White Wine
Jan 01, 2018
The seafood Laksa is a bold dish that can light up your palate. The curry broth is mixed with coconut milk and coriander, making the broth sweet and spicy. The richness of this broth is then balanced out with rice noodles. Prawns and cockles are added to enhance the overall flavor of the dish.
Since Laksa is a bold dish, you would want to match it with a wine that medium bodied white wine. Here, pairing with a medium-bodied white wine would do just fine.
The Cotes Du Jura Blanc, Domaine Rolet, 2010 pairs with the Laksa just nicely. Jura is a region on the east side of France, sandwiched in between Burgundy and Switzerland. This wine is made from 100% Chardonnay, and its medium acidity adds life to its medium-bodied weight.
The fruity tones from the wine complement the seafood in the laksa. Its acidity brings out the flavor of both the wine and the prawns. The minerality in the wine then follows up and relieves you from the spiciness of the Laksa.
If you are an adventurous food and wine person, try pairing the laksa with a Rose wine. The floral aromas of the Rose wine complement the spices in the laksa in an interesting way. Its notes of notes of red berries and apricots can freshen up the laksa dish. Its medium-bodied weight does not get overwhelmed by the Laksa's broth, and when served chilled, it can relieve some of the spiciness from the broth.
The French Cellar WineMag: click here to read more articles, terms, tips and advice!
Wine novice or interested in discovering wines you do not have access to? Every month receive two bottles of exclusive French wines at home with our sommelier's tasting guide. Find out more