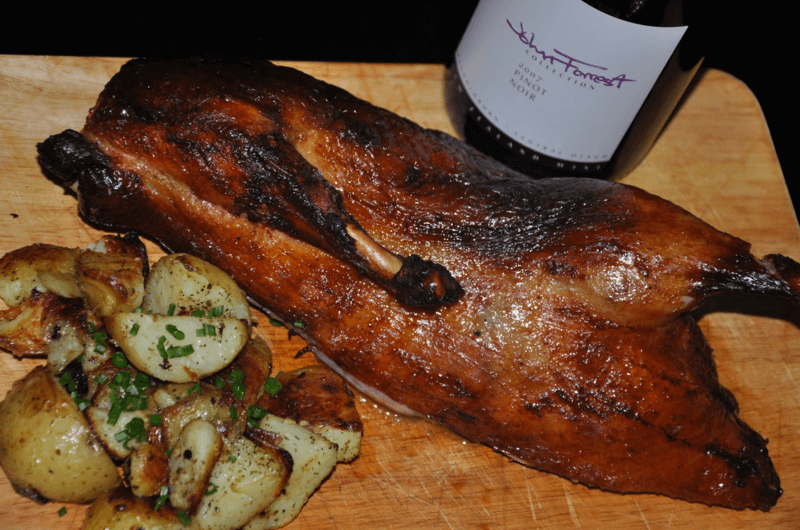 Wine Pairing: Burgundy Pinot Noir with Peking Duck
Jan 01, 2018
Revive your senses with this majestic pairing
The Lunar New Year celebrations may largely be over, but your enjoyment of good food and drink can still continue.
If you still wish to continue with the lunar new year theme, Peking duck is a good choice. Its delicious skin, roasted and browned to a crispy finish, carries amazing flavors. Its succulent and tender meat, make it a very savoury dish to enjoy when you sink your teeth in.
The roasted duck fat is juicy and melts in your mouth. It is usually served with an earthy Hoisin sauce, and thin Mandarin "pancake". It is indeed a very special occasion when a Peking duck is served for a meal.
Now, what kind of wine can match up to such a majestic dish?
A good clue is something to balance out the richness of the duck. The fresh acidity of a Burgundy Pinot Noir will help to cut through this richness. Its fruity, earthy notes match the Peking duck really well and they work together to give this pairing beautiful layers of complexity. Ideally, choose a wine from Cote de Nuits, the most prestigious Burgundy area.
Our sommelier's selection of Burgundy wines available here including this exceptional Chambertin Clos de Bèze, Domaine Pierre Gelin, 2009 ."A sought-after estate with their wines present the best fine-dining restaurants in the world. Ony 1800 Chambertin Clos de Bèze bottles are produced, we are lucky to have it on The French Cellar. A wine of great class!" says our sommelier.
Wine novice or interested in discovering wines you do not have access to? Every month receive two bottles of exclusive French wines at home with our sommelier's tasting guide. Find out more